Add your review
Henna Brow Tint Remover: Gentle & Versatile (200ml)
Henna Brow Tint Remover: Gentle & Versatile (200ml)
Article code
8719189003192
3 to 5 working days
Tint Remover, softly removes eyebrow dye from the skin around the eyebrows Read more
Buy

2

for

€9,45

incl. VAT each and save

5%

5% Discount

Buy

5

for

€8,96

incl. VAT each and save

10%

10% Discount

Buy

10

for

€7,96

incl. VAT each and save

20%

20% Discount

Buy

20

for

€6,97

incl. VAT each and save

30%

30% Discount
Description
Henna has become increasingly popular as a natural alternative for eyebrow tinting. However, as with any beauty procedure, there can be moments where a touch-up or correction is needed post-application. This is where Marie-José & Co's henna stain remover becomes an indispensable tool in your arsenal. 
Why Marie-José & Co Tint Remover?
Effective Stain Removal: Sometimes, despite our best efforts, henna can stain areas outside our desired lines. Our Tint Remover has been designed to lift these unwanted stains promptly and gently. With this product, you can ensure that your clients leave with eyebrows that have a sharp and clean look.

Non-Irritating Formula: Crafted with the purity of Himalayan Spring Water and the refreshing essence of Lemon Peel Oil, our Tint Remover is mild and soothing. It works to efficiently remove excess tint around the eyebrows without causing skin irritation.
How to use henna stain remover:
Application: As soon as you notice any tinting mistakes or excess henna application, prepare to use the Tint Remover.

Preparation: Pour a small amount of the Tint Remover onto a cotton ball.

Gentle Removal: Gently rub the dampened cotton ball over the stained area to lift off the tint. The formula ensures a swift removal, leaving the brows perfectly shaped and free from unnecessary tint.
Safety First:
CAUTION: Please ensure you never apply the Tint Remover directly on the eyelashes or too close to the eyes. Given the sensitive nature of these areas, it's vital to proceed with caution.
Product Details Henna Stain Remover:
Volume: 200ml.

Ingredients: Acqua, Isopropyl alcohol, Polysorbate 80, Citrus limon (lemon) peel oil.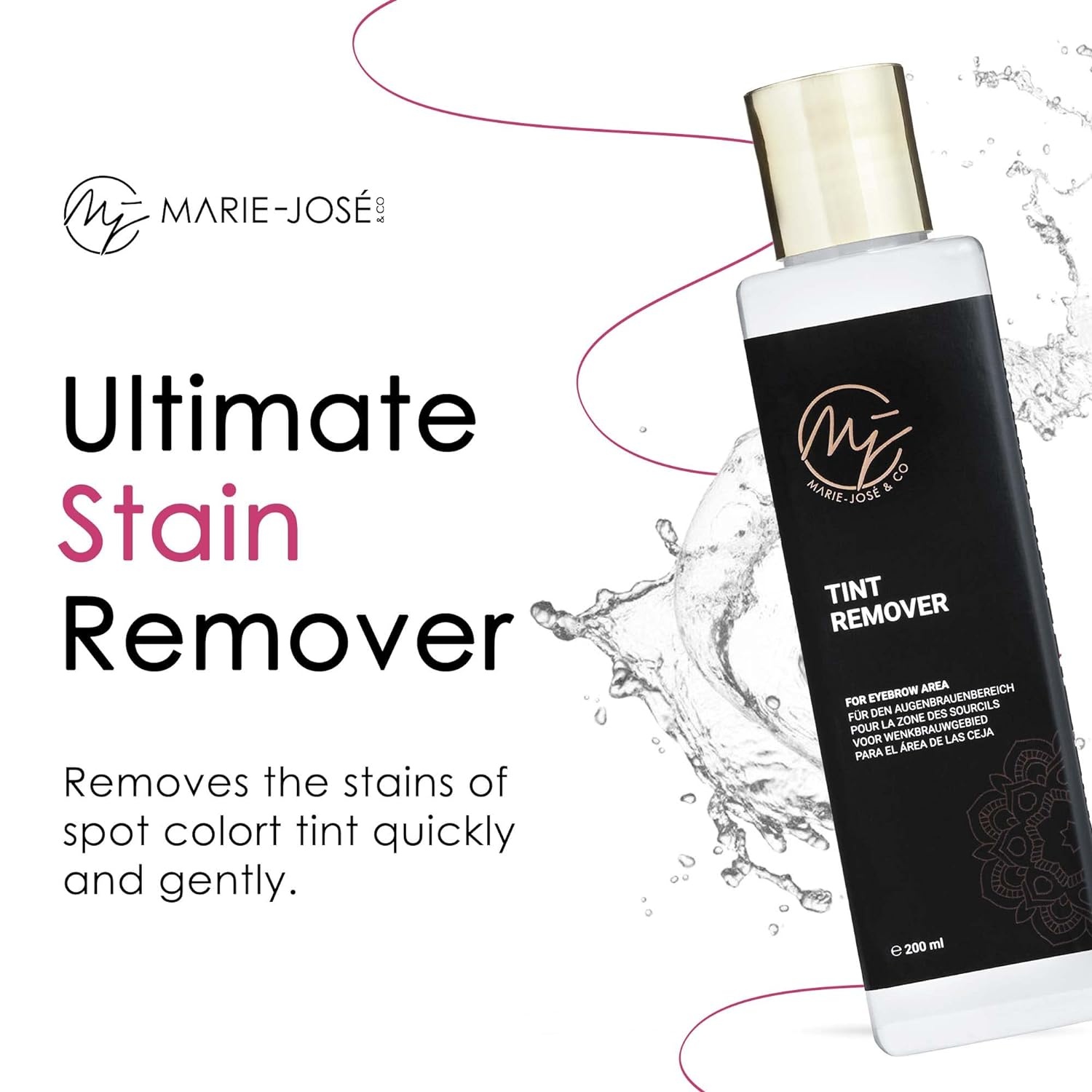 In the world of beauty, precision and finesse are everything. With Marie-José & Co's Tint Remover, you have a reliable partner to help you achieve those perfect henna brows every time. Add it to your professional toolkit and watch as your clients marvel at the flawless results!