A step-by-step plan to get your eyelashes and eyebrows "summer-ready"!
STEP 1 - LET YOUR EYELASHES AND EYEBROWS GROW WITH THE HELP OF A SERUM
Get started now, with a daily application of eyelash and eyebrow serum. Your lashes and brows will be in top condition when the holidays begin. If you'd like to know more about choosing the best eyelash or eyebrow serum, please read the following of our blogs:
• Eyelash serum review: Which is the best eyelash serum?
• Eyebrow serums in more detail
We are total fans of Aphro Celina's hair growth serums. The results are fantastic. Additionally, these serums have the best quality-to-price ratio. So, we genuinely recommend them. Aphro Celina's serums are available online in our webshop.

If you have dark hair, your eyelashes and eyebrows will be real "eye-catchers" once they've reached the desired length/thickness. For the ladies (and gents) among us, who have a lighter hair colour, it's not a train smash. Here too, there are various ways to add extra accentuation to your eyes.

STEP 2 - ACCENTUATING EYELASHES AND EYEBROWS
Once your eyelashes and eyebrows have reached the desired length, you can accentuate them in various ways. Would you like to know how? Then quickly read on!

• Curling your eyelashes - lash lifting
Now that your eyelashes are longer, they are in perfect condition for curling. You can do this with an eyelash curler. But, you'll get the best results with a professional eyelash perm, like RefectoCil Eyelash Curl. It's best to have this done by a professional beautician.

In the video below, you can see how the eyelash perm is applied. Lash lifting in practice.

HINT! For a finishing touch, you can tint your eyelashes (or have them professionally tinted) after the eyelash perm.

• Tinting eyelashes & eyebrows
You can have your eyelashes and eyebrows tinted by your beautician. Or do you prefer to do it yourself? We have various popular eyelash and eyebrow tint categories and brands in our range. We wrote a blog, especially for you, to make the choice between the following top brands easier.
• genuine, natural henna eyebrow tint

• stays on your skin for up to 2 weeks

• stays on your eyebrow hairs for up to 6 weeks

• available in 5 colours
• unique capsule system

• stays on your eyebrow hairs for up to 6 weeks

• available in 5 colours
• with the widest colour range

• 8 colours and 1 bleaching paste (for eyebrows)

• stays on your eyebrow hairs for up to 6 weeks
• for eyelashes and eyebrows, for people with sensitive eyes and skin

• stays on your eyebrow hairs for up to 6 weeks

• available in 4 colours


• Eyebrow pencil
You should use an eyebrow pencil to accentuate your natural eyebrow colour and to model the shape of your eyebrows. You can define your eyebrows, and you can also draw on extra hairs, where no hairs actually exist. If you fill in between your existing eyebrow hairs, you will achieve a fuller effect.

To facilitate your choice so you may select the best eyebrow pencil for you, we have chosen 3 eyebrow pencils from Marie-José & Co's range. These pencils are very popular, even with make-up artists. They have the following benefits:
• A high degree of pigmentation
• Available in the 3 most popular colours: blonde, brown & soft black
• Work very precisely and draw fine lines
• Water-resistant and smudge-proof
• The best quality-to-price ratio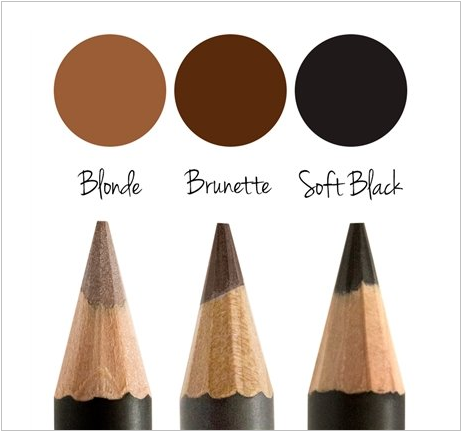 Do you use an eyebrow pencil? Then first read this blog with handy hints and tricks and our step-by-step plan.

• Eyebrow powder
You can accentuate eyebrows beautifully with an eyebrow powder. It creates a really natural look, softer than with an eyebrow pencil. For the whole day. Eyebrow powder is great on a moist base, as well as on foundation, or if you have an oily skin. A powder sticks well in these situations and will last a long time.
HINT! Would you like to know everything about how to apply eyebrow powder? Then read our step-by-step plan for eyebrow powder application.




STEP 3 - FIX EYEBROWS WITH EYEBROW GEL
Some eyebrow hairs simply don't want to co-operate and are always sticking up at the wrong angles! With strong styling gel, specifically developed for eyebrow hairs, this does not need to happen. The eyebrow hairs will stay neat for the whole day and nobody will see that you applied any product. Marie-José & Co eyebrow gel is non-shiny and doesn't contain any alcohol. As a result, the skin around your eyebrows doesn't dry out, and won't flake. Due to the addition of pro-vitamin B5, the hairs are also treated and look healthier.



STEP 4 - LOOKING AFTER EYELASHES AND EYEBROWS
Use a conditioner on your eyelashes and eyebrows, to ensure that they continue to look gorgeous. Don't forget to also apply an eyebrow serum 2 to 3 times per week, to keep the desired length and thickness.
| | |
| --- | --- |
| | Marie-José & Co Brow & Lash Rejuvenator, for example, is a good conditioner. The serum boosts your eyelashes and eyebrows! The nourishing ingredients are rich in nutrients and improve the health of your eyebrows and eyelashes. With this, your glance gets a major boost. The serum is made up of 100% natural oils and herbs. The serum also prevents infections and is rich in vitamin E and anti-oxidants. |
Did you follow the step-by-step plan? Then you are ready to enjoy the whole summer, stress-free.
HINT! You can find many more interesting blogs in our Academy, relating to the optimal grooming of your eyebrows and eyelashes.